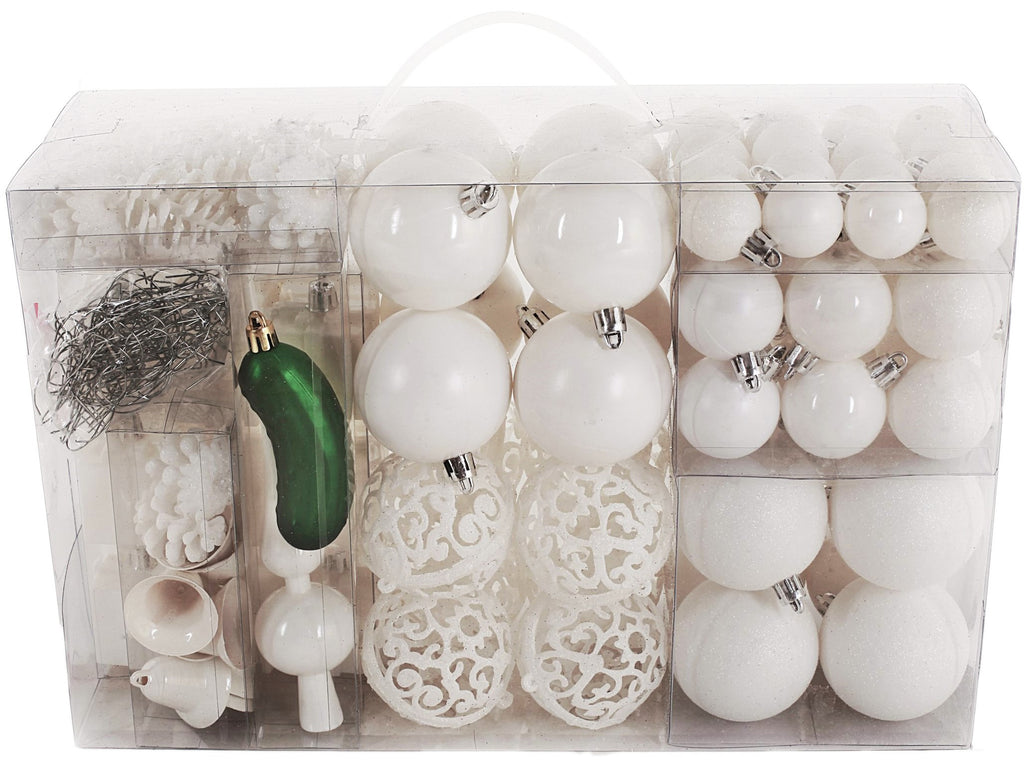 BRUBAKER 101 Pack Assorted Christmas Ball Ornaments - Shatterproof - with Green Pickle and Tree Topper - Designed in Germany
---
BRUBAKER Christmas Tree Decoration Set of 101 Beautiful and Traditional Christmas Ornaments
These beautiful Christmas ornaments are made of durable and sturdy plastic - perfect for indoor and outdoor.
This XXL set contains 101 ornaments in total: 58 Christmas balls, 8 Christmas bells, 18 little present boxes, 16 pine cones, 1 tree topper and 1 traditional German green pickle.
Great as a perfect gift to others or yourself. Comes in a reusable plastic gift box.
The shatterproof plastic ornaments combine the beauty and luster of real glass with the unbreakable practicality of plastic.
Designed in Germany with our traditional German green glass pickle. Make sure to hide it within the tree - whoever finds it is entitled to an extra present.
You receive:
24 balls (baubles) 2.3 inches (4 shiny, 4 matte, 8 with glitter)
18 balls (baubles) 1.6 inches (6 shiny, 6 matte, 6 with glitter)
16 balls (baubles) 1.2 inches (4 shiny, 4 matte, 8 with glitter)
8 Christmas bells 1.4 inches (shiny)
18 present boxes 2.4 inches (shiny)
16 pine cones 1.6 inches (matte)
1 Christmas tree topper 7.9 inches (shiny)
1 Pickle (green)
Material: High quality plastic.
Designed in Germany - Our Christmas tree ornaments feature a variety of traditional and very popular Christmas elements. They will become a perfect part of your holiday tradition.
Child and pet friendly - Our Christmas tree balls are made of durable and environmentally friendly plastic and offer an excellent break resistance.
Never gets old - Our set of over a hundred Christmas tree ornaments come in a variety of traditional Christmas colors and can be used every year. The whole set comes in a reusable plastic storage box.
---
Share this Product
---
More from this collection