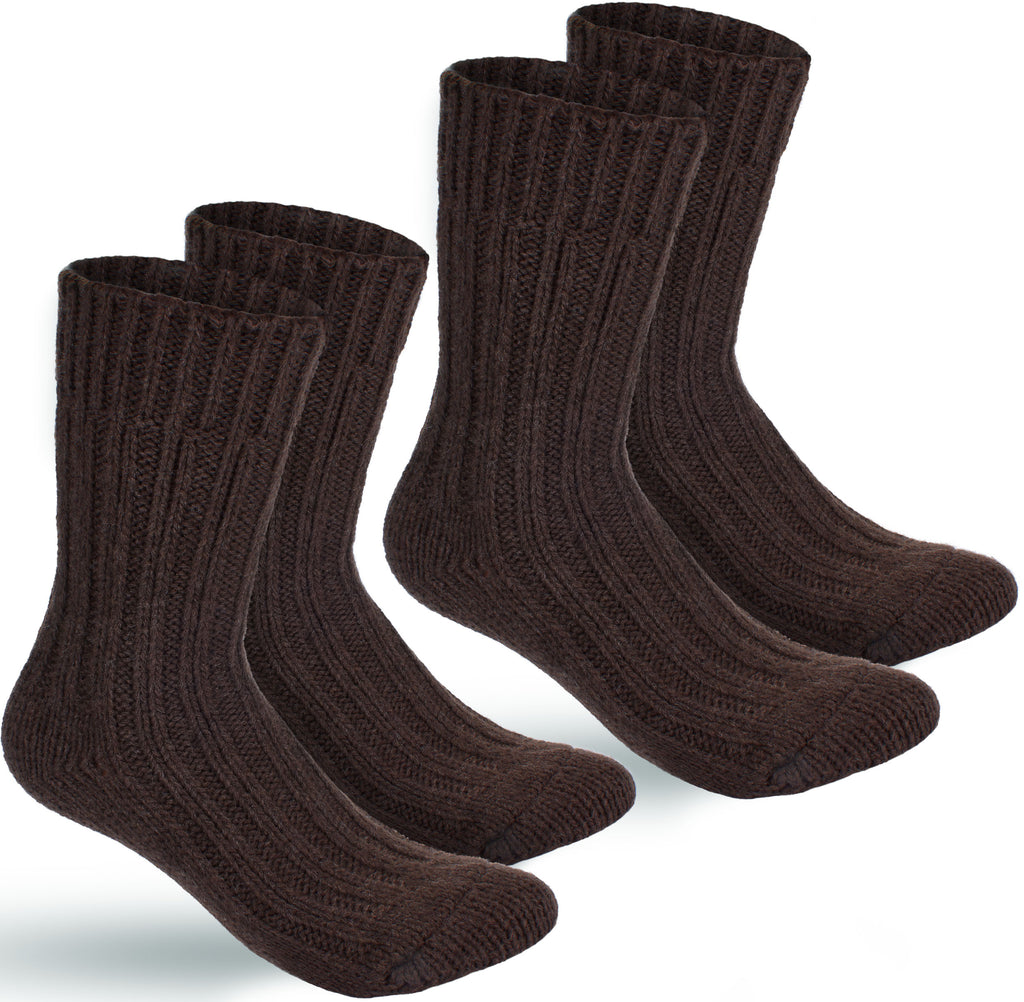 BRUBAKER 2 Pairs Unisex Alpaca Wool Socks - Thick Winter Socks for Men or Women - 100% Alpaca - Premium Thermal Warm Boot Socks
---
🔥 Unmatched Comfort: Experience the luxurious softness and soothing warmth of our 100% Alpaca Wool Socks. Designed for ultimate comfort, they provide a cozy embrace for your feet all day long.
💪 Exceptional Durability: Made from alpaca wool, which is three times more tear-resistant than sheep's wool, our socks are built to last. Enjoy long-lasting durability without compromising on style or comfort.
🌬️ Climate-Regulating Wonder: Alpaca wool offers exceptional climate-regulating properties, keeping your feet warm in the cold and cool in the heat. Say goodbye to sweaty feet and hello to optimal foot comfort.
💦 Moisture-Wicking Excellence: Our alpaca wool socks excel in moisture absorption, preventing sweaty feet and maintaining freshness. Stay dry and comfortable throughout the day, no matter the activity.
🎁 Versatile Style: With sizes for men and women and a range of colors to choose from, our alpaca wool socks are the perfect accessory for any occasion. Whether you're lounging at home or exploring the outdoors, elevate your style with these versatile socks.
[100% Alpaca Wool: The Ultimate Winter Socks]

Discover the unparalleled comfort and warmth of our 100% Alpaca Wool Socks. Crafted from the finest alpaca wool, these socks offer a level of quality and luxury that is unmatched. Alpaca wool is renowned for its exceptional properties, making it the perfect choice for winter wear. Unlike sheep's wool, alpaca wool is three times more tear-resistant, ensuring long-lasting durability.

[No Pressure Points on Your Feet]

Enjoy unmatched comfort with our meticulously crafted alpaca wool socks. The tips and heels of these socks have been finely linked, eliminating the presence of a seam that could cause uncomfortable pressure points on your feet. You can now walk, hike, or simply relax in total comfort and freedom.

[Versatile Winter Socks]

Our alpaca wool socks are designed for both men and women, making them a versatile choice for all. They are available in a convenient set of two, offering excellent value for money. Choose from a range of sizes and colors to find the perfect fit and style for your feet. Whether you're heading out for a winter adventure or simply lounging at home, these socks will keep your feet warm, comfortable, and stylish.

Benefits of Alpaca Wool:

- Climate-regulating properties that keep your feet warm in the cold and cool in the heat.
- Excellent moisture absorption to prevent sweaty feet and maintain freshness.
- Long-lasting durability and resistance to wear and tear, ensuring these socks will be with you for seasons to come.
- Soft, supple, and comfortable to wear, providing a luxurious feel against your skin.

Sizes available are 3-6 (EU 35-38), 6.5-8 (EU 39-42), 9-11.5 (EU 43-46), and 12.5-14 (EU 47-50).

Colors available: black, anthracite, gray, brown, and beige.
---
Share this Product
---
More from this collection