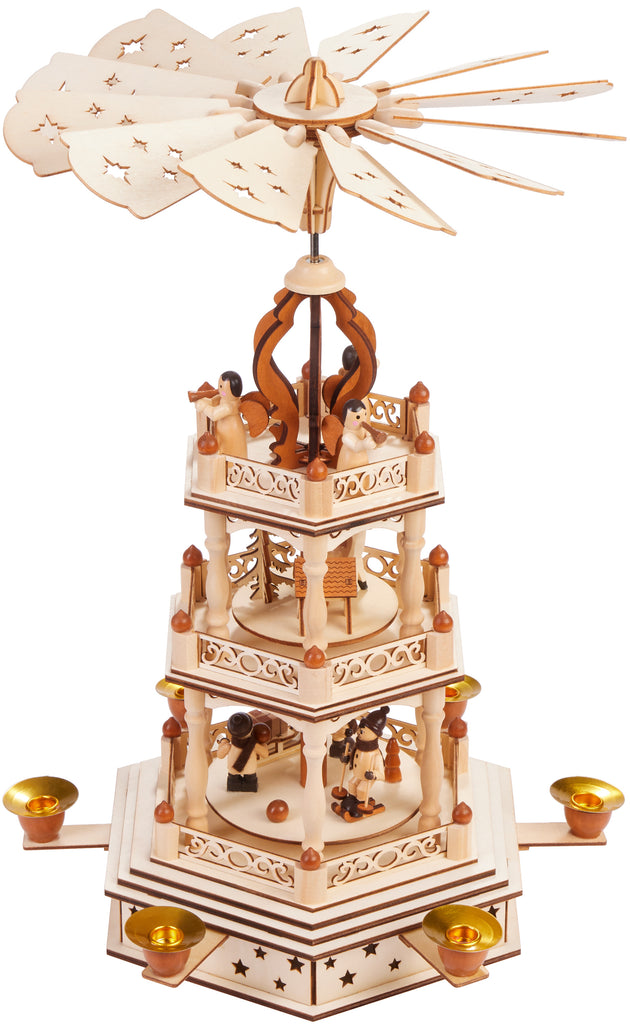 BRUBAKER Christmas Pyramid - 18 Inches - 3 Tier Carousel - Wooden Rotating Christmas Decoration Nativity Play - Hand-Painted Figures - Designed in Germany
---
- Traditional Christmas Decoration - Designed in Germany -

For centuries it has been a wonderful tradition to put up a pyramid during the Christmas season. Our classic wooden pyramid makes a wonderful gift idea for your loved ones on a variety of pre-Christmas occasions.

- Spectacle of Light and Shadow -

Experience a true spectacle when the candles in the candle holders warm the air above them and the impeller of the pyramid, as if powered by magic, starts to move. Enjoy the performance, of the flickering play of light and shadow that fills the room.

- Hand-Painted Figures -

Various winter motifs come to life on the individual floors. On the top, non-rotating level, angels with trumpets announce the birth of baby Jesus. On the middle level, a cute deer makes its circles. On the lower, rotating level, children have a lot of fun with skis, sleds and presents. Each figure is hand-painted.

- Classic Craftsmanship -

An artfully crafted fence surrounds each level. Brown wooden cone-shaped balls are attached to the fence posts. The levels are supported by columns, and lovingly sawn Moorish arches are reminiscent of the Occident. Six pyramid candles are needed for operation. The six candle holders are attached to the lower platform.

- Product Information -

- 3 floors / 3-storey
- Thermal operated with candles
- High quality porcelain bearing
- Hand painted figures
- 6 candle holders

Designed in Germany by BRUBAKER - the pyramid with the deer!

Suitable for candles with a diameter up to 0.5 inches (1.25 cm). The candles are not included.
---
Share this Product
---
More from this collection