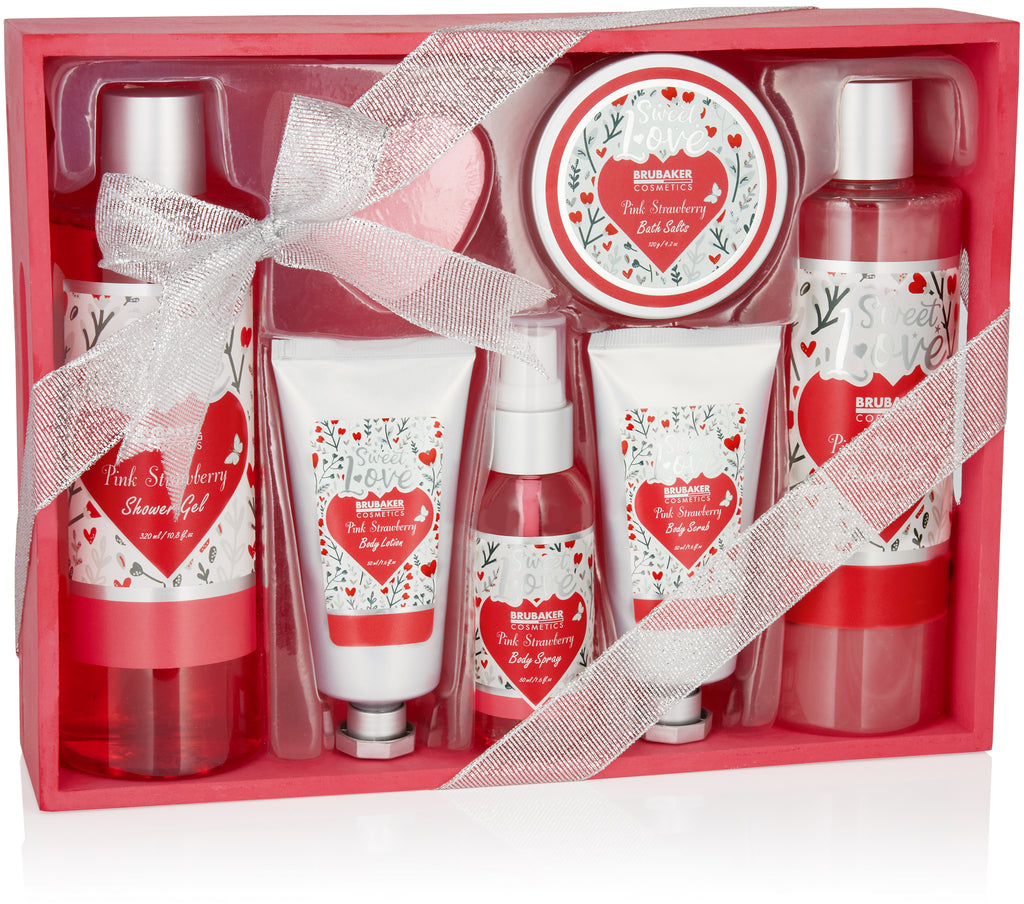 BRUBAKER Cosmetics 8-Pcs. Bath and Shower Set Strawberry Sweet Love in Deco Wooden Basket - Care Set Gift Set with Flowers Design - Pink
---
Summery strawberry scent for your bathroom
Every care product in this gift set comes into your bathroom with the same fruity scent of juicy strawberries. Natural strawberry extracts make this fragrance look particularly authentic. The fruit acid from this strawberry essence also cleanses the skin deep into the pores and makes the skin feel fragrant.
Decorative wooden basket for storage
The 7 fragrant care products are wonderfully complemented by a storage basket made of wood in bright pink to match the beauty items - a colorful eye-catcher for your bathroom. The basket is ideal for storing cosmetic accessories such as kohl, lipstick and cotton pads. This basket is also a real all-rounder for creative decoration ideas, for example as a pink plant pot or to store kitchen utensils.
The perfect gift for every occasion
In the eye-catching gift packaging with the sparkling silver ribbon, this wellness set is the ideal gift for your girlfriend, fiancé or wife. With the feminine design and the sweet strawberry scent, this set convinces across the board and makes the recipient happy.
The set contains:
320 ml shower gel (10.8 fl.oz.)
320 ml bubble bath (10.8 fl.oz.)
50 ml Body Lotion (1.6 fl.oz.)
50 ml body scrub (1.6 fl.oz.)
50 ml body spray (1.6 fl.oz.)
120 g bath salt (4.2 oz.)
30 g bath fizzer (1.0 oz.)
Dimensions
Set total: 10.2 x 7.9 x 2.6 inches (26 x 20 x 6.5 cm) (width x height x depth)
Log basket: 10.2 x 7.9 x 2.6 inches (26 x 20 x 6.5 cm) (width x height x depth)
Animal testing for cosmetics? We say no! That is why we test all BRUBAKER beauty products exclusively on ourselves.
---
Share this Product
---
More from this collection