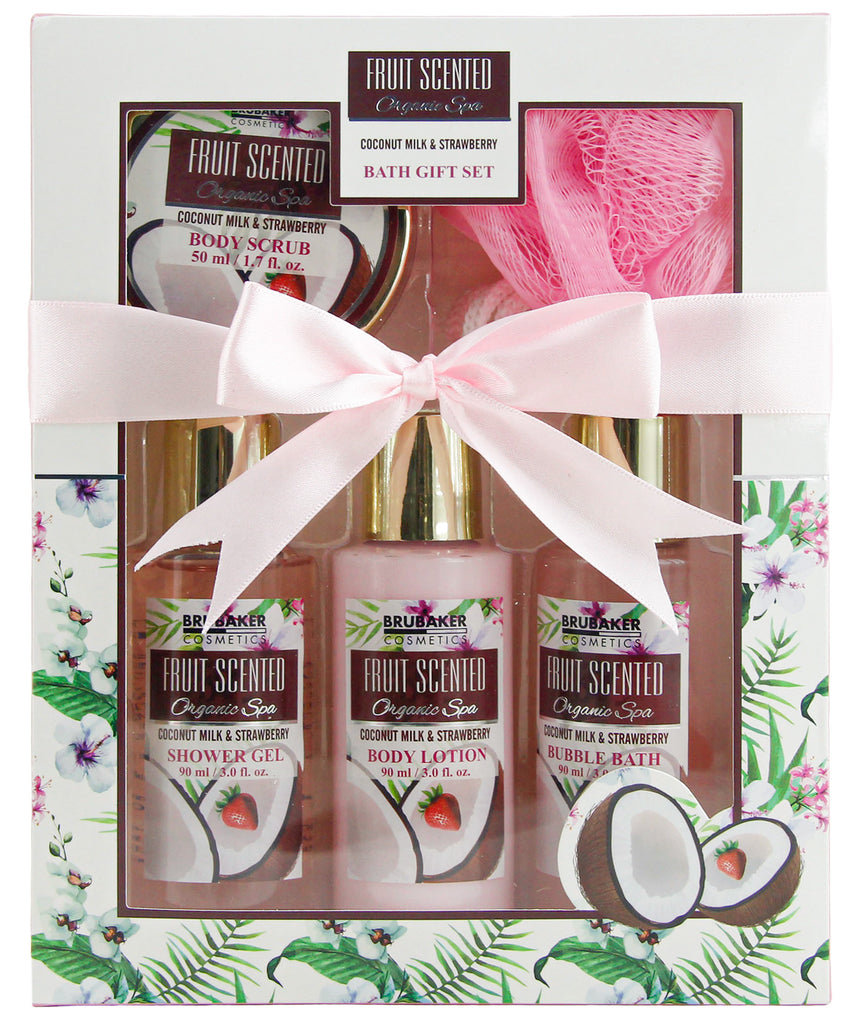 BRUBAKER Cosmetics Bath and Shower Set - Coconut and Strawberry Scent - 5 Pcs Spa Gift Set for Women - Skin Care Gift Box for Wife Girlfriend or Best Friend
---
Strawberries are a sensual pleasure from nature - immerse yourself in a warm wellness bath of strawberries and the fragrant aroma of coconut milk. Let yourself be seduced by the cheeky little fruit and a breeze of coconut scent to a SPA experience in the bathroom at home.

The fruit acid in the strawberry ensures that the skin is cleansed deep into the pores and excess skin cells are removed.

The skin becomes velvety soft. It can breathe and becomes more receptive to all the care substances contained in the formula. Strawberries contain a lot of vitamin C and have a positive effect on the skin's appearance. Coconut milk helps normal and dry skin to retain its moisture particularly well and provides it with vitamin E. All lotions, shower and bath products in the set bring the unique, refreshing scent combination of strawberry and coconut. The perfect gift set for someone you want to say "thank you" to from the bottom of your heart.

The gift packaging and the four beauty products are colorfully decorated in a summer theme, with half coconut slices, fern leaves, small strawberries and flower blossoms.

It is very important to us that all our cosmetic products are developed and produced without animal testing.

The Set includes:
Body scrub 1.7 fl. oz. (50 ml)
Shower gel 3.0 fl. oz. (90 ml)
Body lotion 3.0 fl. oz. (90 ml)
Foam bath 3.0 fl. oz. (90 ml)
Nylon sponge

Gift Box with Viewing Window

The 4 fragrant care products and the sponge are delivered in a stylish box with a transparent viewing window. A real eye-catcher that will put a smile on your face and give true bathing pleasure. The beauty box contains all the necessary ingredients that makes a complete wellness care something special.
---
Share this Product