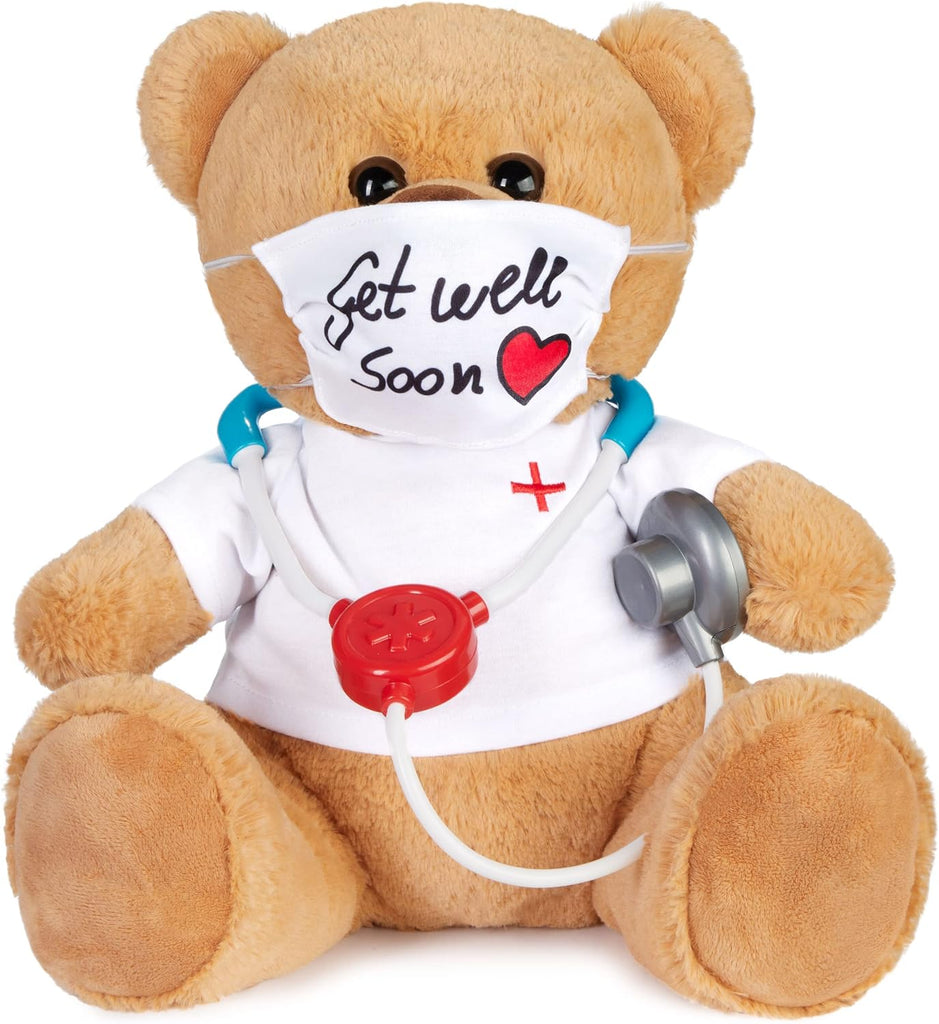 BRUBAKER Teddy Bear - Get Well Soon - 14 Inch Cuddly Toy Gift with Mask and Stethoscope - Doctor Plush Animal with White Shirt - Brown
---
🐻 Heartwarming Comfort: Embrace your loved ones with this 14-inch Teddy Plush, adorned in a doctor's outfit with stethoscope and mask, radiating warmth and care for a swift recovery.
🌟 Mood-Boosting Companion: A cheerful presence during illness, this bear's sweet eyes, cute nose, and broad smile offer emotional support, turning fears into smiles on the road to healing.
👶 Adorable Friend for Kids: For the little ones, the plush bear becomes a soft and cuddly friend, providing comfort during hospital stays and serving as a familiar face in unfamiliar surroundings.
🛌 Perfectly Portable: With its 14-inch size, this adorable teddy fits snugly in any hospital bed, making it a comforting companion for rest and recovery, and an endearing addition to any room.
🎁 Thoughtful Gift: Ideal for all ages, this bear is not just a plush toy but a gesture of love and well-wishing. Washable, with cute brown eyes and extra soft fur, it's a gift that keeps giving comfort and a lasting reminder of care.

[Get Well Soon Wishes - 14 Inch - Teddy Plush Toy - Light Brown]
The cuddly Doctor Bear, adorned with a charming stethoscope and a face mask featuring well wishes in English, is a true eye-catcher. It's the perfect comforting gift for both young and old. This huggable bear shows that someone cares deeply. A popular token of recovery during hospital visits, this Doctor Bear is especially cherished by women and girls.
[Cheerful Companion during Illness]
Offering encouragement and serving as a morale booster during the healing phase, this little bear is there for your loved ones. With its sweet eyes, adorable button nose, and wide smile, it alleviates fears and provides moral support to help one recover quickly.
[Companion for the Little Ones in the Hospital]
This plush bear is a loving companion, especially for the little ones. Its exceptionally soft and cuddly fur makes it quickly become your child's new favorite, providing a familiar cuddly friend during those initial moments alone in an unfamiliar place.
[Convenient Size]
With a size of 14 inches, this adorable plush teddy fits perfectly in any hospital bed. As a keepsake, this teddy also makes a charming addition to the child's room decor and, with its endearing appearance, offers various other uses, such as a toy (substitute for a doctor's kit).
[Product Details]
- Cute brown button eyes and a very sweet smile
- Teddy dressed in a medical outfit with stethoscope and face mask
- Extra soft, incredibly cuddly fur
- Material: 100% polyester
- Washable at 30°C (86°F)
- Dimensions when sitting: 13.8 x 13.4 x 10.2 inches (35 x 34 x 26 cm) (Height x Width x Depth)
---
Share this Product
---
More from this collection