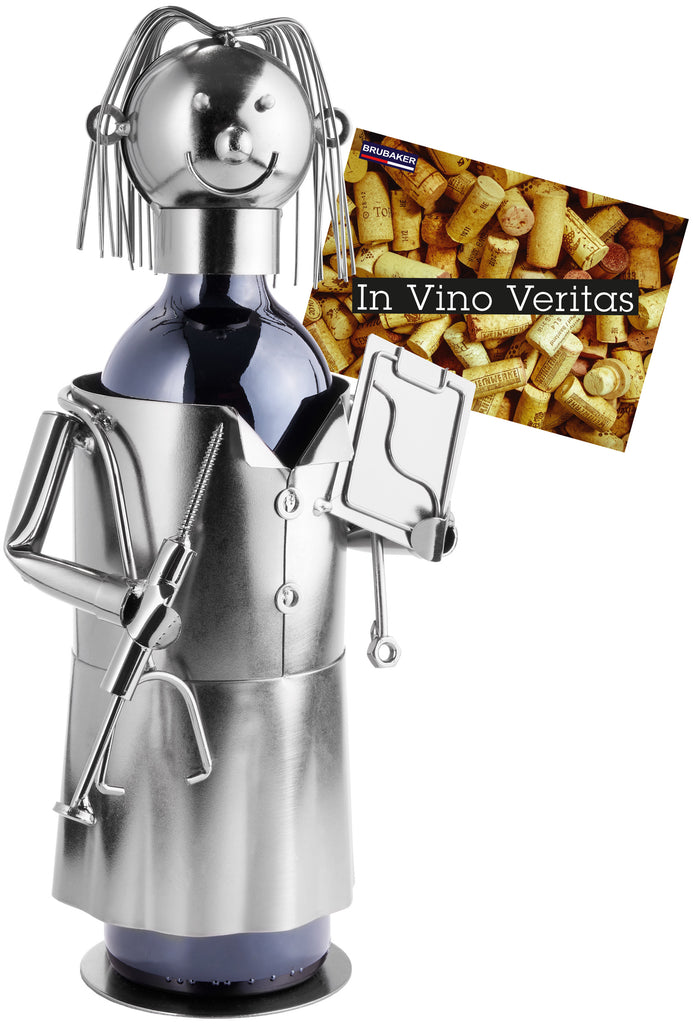 BRUBAKER Wine Bottle Holder Female Doctor - Metal Sculpture Bottle Stand - 7.9 inches - Wine Gift for Patients Female Specialist Medical Students for Study - with Greeting Card
---
The perfect gift idea for every doctor!
The doctor inspires with her modern look made of welded metal parts and is a great focal point in every living area. She holds a large syringe in one hand and a patient sheet in the other. The body of the healer serves as a bottle holder, the head is simply placed on the neck of the bottle. It can be set up anywhere in the room and is beautiful from all sides.
Give away the bottle stand with a bottle of wine, liqueur and other spirits. A bottle of wine is a popular souvenir at celebrations or parties, everyone is happy about a great bottle of wine. Or invite them and set up a fancy table decoration - use the wine holder to store and present your favorite wine.
Thanks to the large diameter of the holders (3.1 inches (8 cm)), this bottle stand easily holds standard wine bottles (750 ml) like many other bottles - just check the diameter of your bottle.
Each bottle holder is designed by metal sculptors. The figure is made from pig iron that has been galvanized at the end of the manufacturing process to get its shiny finish. The manufacturing process is done by hand: from cutting the iron sheets, bending the tubes and shapes to soldering the finished parts such as screws and nuts. Therefore, each of our sculptures is absolutely unique.
With greeting card "In Vino Veritas".
The bottle is not included.
Dimensions:
Width 6.3 inches (16 cm)
height 7.9 inches (20 cm) without bottle
height of the head 3.1 inches (8 cm)
depth 4.1 inches (10.5 cm)
weight: 480 g
---
Share this Product
---
More from this collection