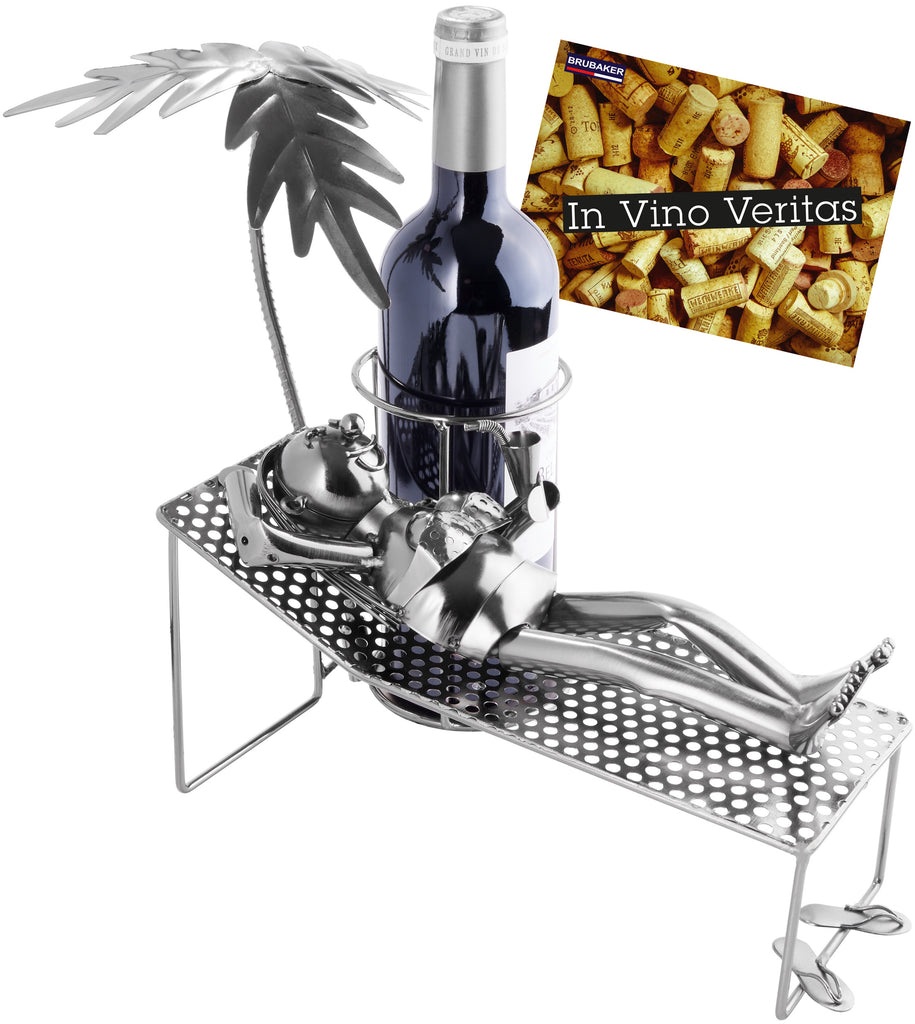 BRUBAKER Wine Bottle Holder Vacationer - Metal Sculpture Bottle Stand with Palm Tree and Lounger - Wine Gift with Greeting Card
---
Unforgettable wine gifts
Our wine bottle holders are something very special for you and your loved ones. Give your wine bottles a unique look with the modern metal wine bottle holders or give them away to friends and family.
Detailed craftsmanship made of metal
These metal wine bottle holders were handcrafted in artful precision work. Numerous small details were planned and implemented with a lot of creativity and great attention to detail. Due to the loving handwork, each bottle stand is unique, which has been manufactured under the highest standards.
With a matching gift card
This metal figure can be given away directly. You will receive a decorative gift card with the label "In Vino Veritas" to match the wine theme.
Perfect gift ideas for every occasion
Whether for a birthday, Christmas, Valentine's Day, wedding anniversary, anniversary or name day, with these wine holders you have the perfect one Gift for a wide variety of occasions.
Range highlights
Professions : firefighter, fisherman, chimney sweep, waiter, surgeon
Leisure time : Cyclists, barbecue grill, topping-out ceremony, diver, piano player
Love : Swing, balloon ride, dancing couple, couple with dog, lovers on the moon
Other : motorcycle, tractor, sailing ship, graduation
Product features:
Dimensions: 11.1 x 11.4 x 7.7 inches (28.3 x 29 x 19.5 cm) (width x height x depth)
Weight: 660 g
Motif: vacationer on the beach
Material: metal
Diameter for bottles: up to 3.3 inches (8.5 cm)
Palm loose for insertion
The bottle is not included in the scope of delivery.
---
Share this Product
---
More from this collection