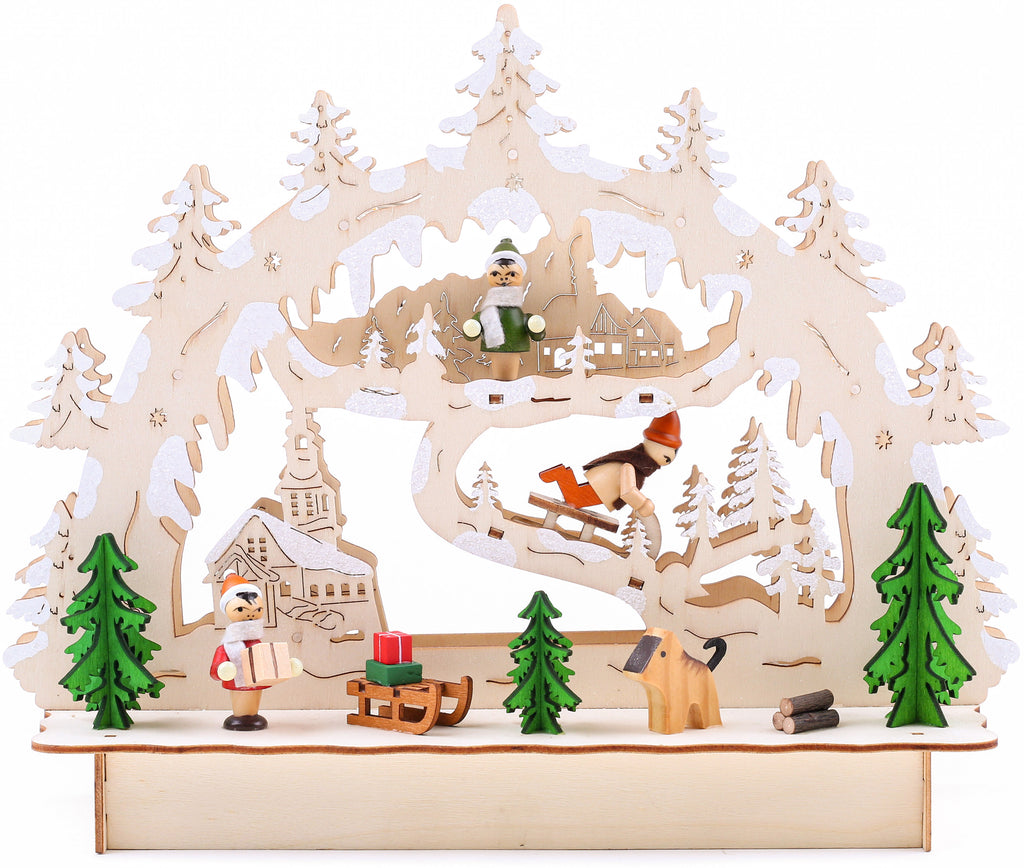 BRUBAKER 3D LED Candle Arch - Winter Landscape with Church - LED Lighting - Natural Wood - 10.6 x 9.5 x 3.4 Inches - Hand Painted
---
BRUBAKER 3D LED Light Arch Candle Arch - Winter Landscape with Church - LED Lighting - Natural Wood - Handpainted
It is the three-part optic that makes the light arch so special: at the top there is the scenery of some dreamy houses and at the bottom left there is a church. The levels are connected by paths lined with fir trees, on which one of the lovingly hand-painted figures toboggans down the mountain. There is a wooden sledge with presents, logs, a donkey and many other details. The roofs and fir trees are decorated with artificial snow. The heart of this unusually beautiful piece is the natural wooden frame, from which parts were stained.
A candle bridge arch simply belongs to the special Christmas ambience. Decorate your table, your windowsill, your mantelpiece or your sideboard with this wooden candle arch - it creates a contemplative scenery that brings the special atmosphere of the Advent and Christmas season to your home. The battery operation makes it possible for you to deposit this light arc where you wish it.
LED lighting: 9 permanently installed lights
Light colour: Warm white
Battery compartment with on/off switch at the bottom
Batteries: 2 x 1.5 v AA (not included)
For indoor use only
No assembly required
Product dimensions:
Width 10.83 inches (27.5 cm)
Height 9.65 inches (24.5 cm)
Depth 3.43 inches (8.70 cm)
Production and design: Designed by BRUBAKER, based on the traditional craftsmanship of the Ore Mountains region.
---
Share this Product