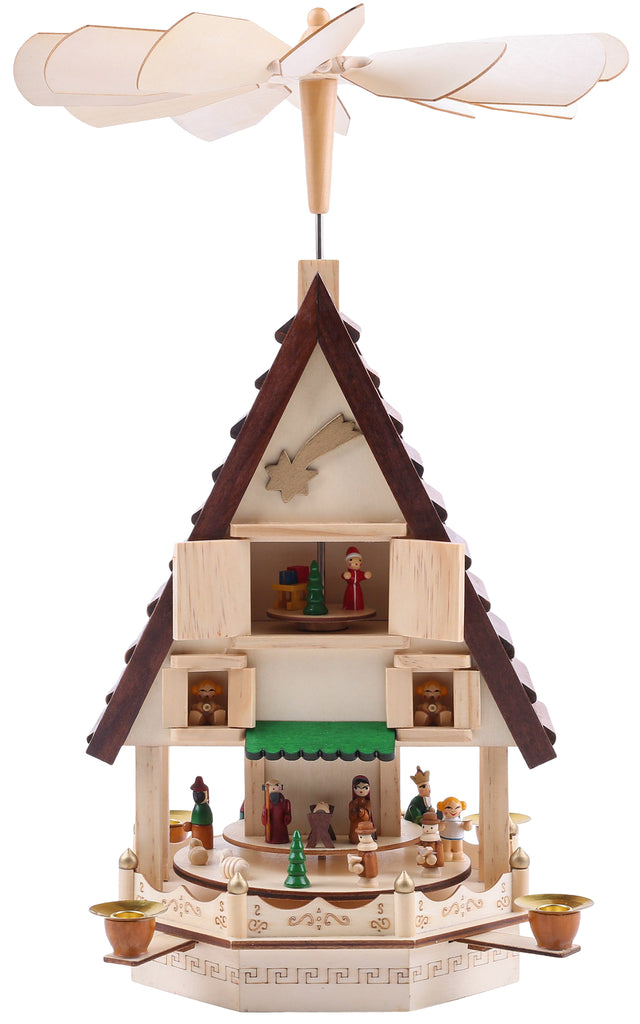 BRUBAKER Wooden Christmas Pyramid 19.3 Inches - Nativity Play - 4 Tier Carousel with 4 Golden Metal Candle Holders - Natural Wood - Hand Painted Figures
---
On the lower turntable the wise men from the Orient and sheep make their rounds, on the stationary floor above the birth of Christ is depicted. Another floor follows with 2 windows, from each of which a Christ child looks out and on the turntable above you can see a Santa Claus with a Christmas tree and presents. The star of Bethlehem shines above everything.
Make the Christmas pyramid the focal point of your celebration: the candle-warmed impeller conjures up a wonderful play of light and shadow on ceilings and walls. The lovingly hand-painted figures and the detailed scenes make this pyramid a Christmas attraction in every home.
Present this Christmas crib pyramid to your loved ones in German design - it is a highlight on the floor in front of the Christmas tree, an atmospheric sideboard decoration and a festive table decoration in every living room. Our Christmas crib pyramid is the perfect complement to your classic Christmas decoration.
Product dimensions
Total height: 11.42 inches (29 cm)
Diameter base: 10.24 inches (26 cm)
Impeller diameter: 11 inches (28 cm)
Simple setup - Minimal assembly required
The scope of delivery includes assembly instructions in German and English.
Designed by BRUBAKER in the style of wood art from the German Ore Mountains with its long traditions.
---
Share this Product
---
More from this collection