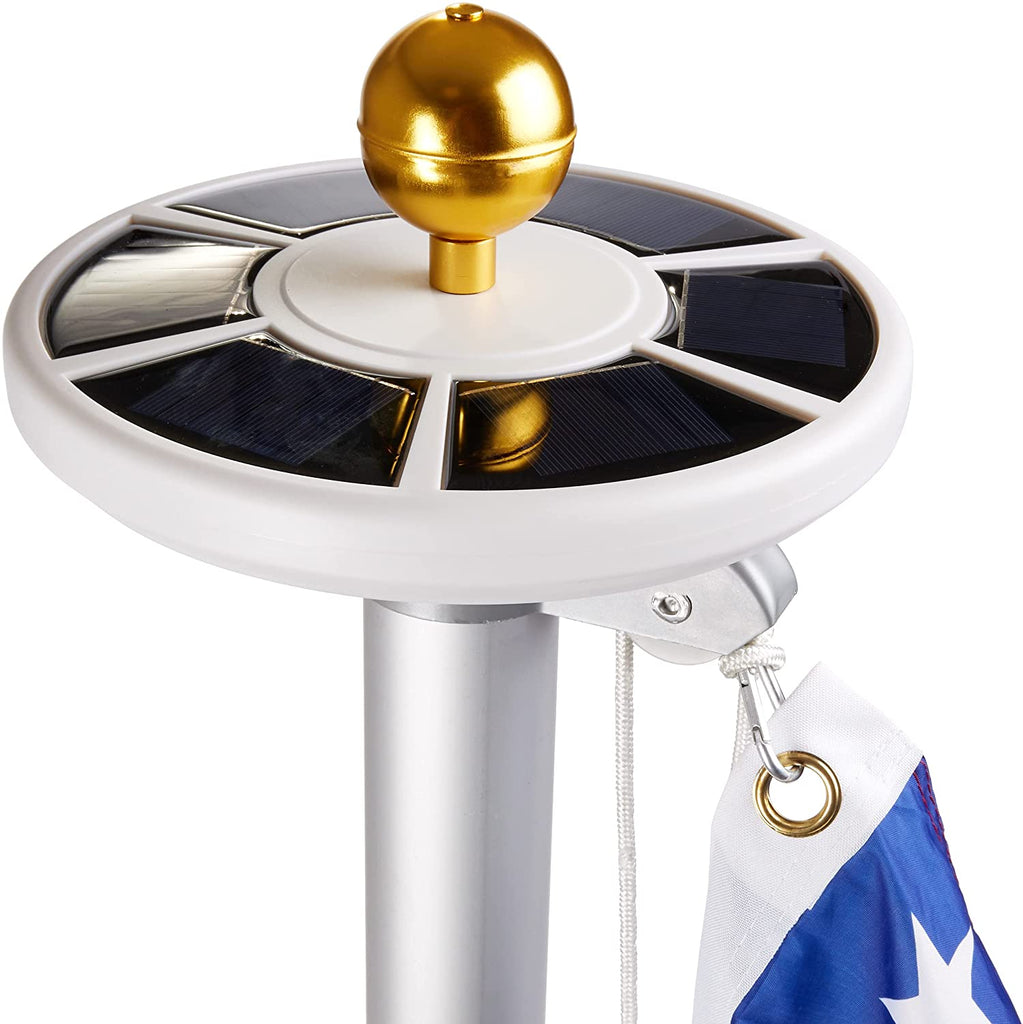 Solar Flag Pole Light - Automatic Super Bright Lamp with 26 LED Lights - Fits Most In-Ground Flagpoles 15 to 25 Ft - Solar Powered, 100% Flag Coverage - White
---
🏳️‍🌈 NEWEST GENERATION - this flagpole light illuminates your beloved flag in the darkest night. The latest generation of BRUBAKER solar lamp has extra bright LED lights and a very high battery capacity. Follow the U. S. Flag Code and present your flag even at night!

🌳 GREEN ENERGY - solar energy is the greenest way to generate electricity. Never again change batteries or recharge batteries with conventional electricity! The 26 LED lights consume little power. Together with the efficient rechargeable batteries, these lights will keep your flagpole shining all night long

🌅 AUTOMATIC DAYLIGHT SENSOR - thanks to the automatic daylight sensor, you don't have to stress about switching the device on and off. As soon as the sun sets and it gets dark, the lights will illuminate. Turn the switch to the "ON" position before using it

🚩 PERFECT FIT - this hardware is very easy to install without any special tolls required. The circular lamp is made to fit all standard flagpoles. It is suitable for most flagpoles up to 25 ft

🚚 SECURE SHIPPING - these circular lamp is made to fit all standard flagpoles. It is suitable for most flagpoles up to 25 ft. Top Ball and Flag & Pole are not Included
PROUDLY PRESENT YOUR FLAG
The U.S Flag Code says that the American flag should be illuminated at night to shine magnificently in the night. But also other flags, such as those of your favorite baseball or football team, are worth seeing even in the dark.
100 % COVERAGE
With the round shape, this flag lamp covers the entire top of the flagpole. The flag will be illuminated no matter in which direction it is flying.
WATER-RESISTANT
The lamp has the IP65 protection standard and is therefore waterproof. It works reliably even in storm and rain.
BRIGHTER THAN OTHERS
This solar light has extra bright LED panels. These are much brighter and more efficient compared to other flagpole lights.
FIT FOR MOST FLAG POLES
Thanks to the one-size-fits-all design, this device fits almost all flagpoles with a size from 15 to 25 ft. It is very easy to install without any special tolls required.
Product details:
Light source: 26pcs high quality LED
LED color: White
Charging time: 8 hours
Runtime: more than 10 hours
Power: 1.5 W
Solar Panel: 1V/300MA high efficiency
Protection Level: IP65 water-resistant
NOTE:
When using this lights the first time, please let the solar light be exposed to direct sunlight for a couple of days, which will help fully charge the batteries. Thereafter, the solar panels will automatically be recharged during normal natural daylight.
Top Ball and Flag Pole are not included.
---
Share this Product
---
More from this collection