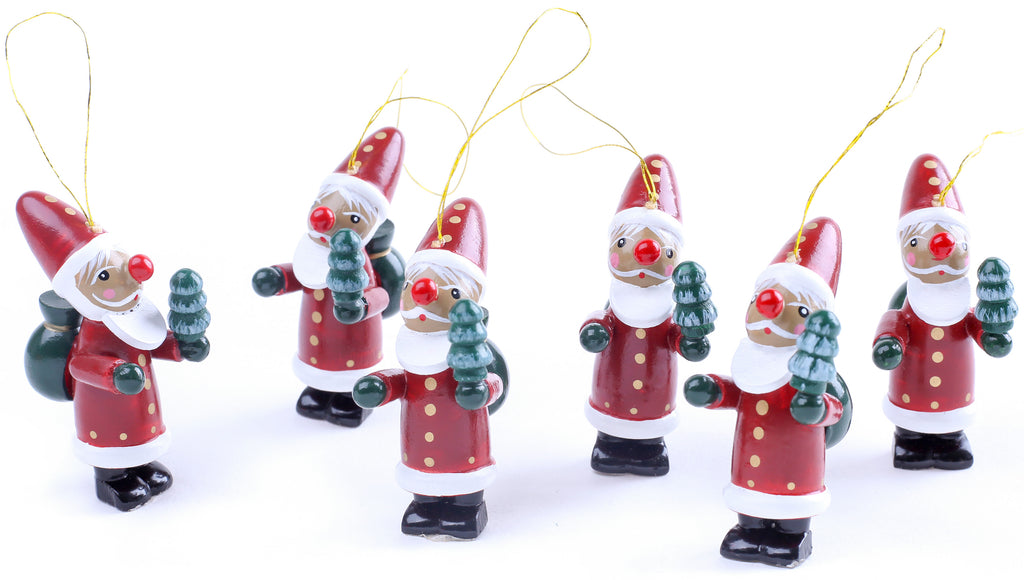 BRUBAKER 6-Pcs Santa Claus Pendant - Christmas Tree Hanging Ornaments Set - Wooden Christmas Tree Decorations - Hand Painted
---
This beautiful wooden jewellery provides with young and old for shining eyes!
Wood art based on the traditional craftsmanship from the Ore Mountains - The Santa Clauses are made of natural, partly water stained wood and were painted by hand. In the classic colours red and green, the wooden pendants lend an atmospheric Christmas atmosphere to every Christmas tree, garland, branch or Advent arrangement.
Turn Christmas into a very special experience for your family every year. Especially for children, the various Christmas tree figures available from us are a highlight of Christmas. Wood tree decorations designed by BRUBAKER are available in many variations. Combine your favourites with the typical Christmas motifs, winter motifs and mixed tree decorations assortments.
A particularly beautiful gift idea - the pretty gift box with a window is not only practical for storing, it is also perfect for giving tree tags as gifts, e.g. as a Santa Claus present or as a present during the Christmas season.
Main features
Hand-painted
Stained with environmentally friendly paints
Set size: 6 pieces
Size of the figures: 2.17 inches (5.5 cm)
Length of the hanger: 2.17 inches (5.5 cm)
Packaging dimensions: 5.31 x 1.18 x 5.12 inches W x H x D (13.5 x 3 x 13 cm)
---
Share this Product